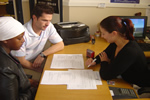 Our Placement Service offers:
Domestics/ Child minders
Care workers for invalids/ elderly
Au-Pairs
Part time domestic workers/ child care workers
Fixed term/ contract workers (Max 3 weeks)
Restaurant / Kitchen helpers
We organise interviews with 6 candidates to choose from
We pre-interview and reference check candidates
We offer a discounted training course with your placement
We offer assistance with contracts, UIF, labour issues etc.
Our Employment contract is simply the best!
Should you decide to use our services, PLEASE contact your nearest franchise to discuss the tariff's and complete the questionnaire, listing all your requirements, as each franchise has individual costs. In this introductory letter, we try and explain the basic procedures.
What are our charges?
Franchises placement tariff may vary slightly, but all franchises fees are made up as follows:
Interview Fee : This covers the arranging of the interviews and is strictly payable in advance, before we start the process (please contact us for pricing).
Placement Fee : This is only paid if you find a suitable candidate through the interviews and we offer a discount if this amount is settled on the day of the interviews. We offer a free or discounted course with this fee. The placement fee varies depending on the type of placemen.
Contract Fee: This is entirely optional, but highly recommended. Included is a consultation regarding the employment legislation and answers to any queries, an excellent contract, UIF registration, disciplinary procedure forms and guidelines and a very useful attendance register and salary record book (offered by some franchises only). We promise that it will be money well spent, and we are almost willing to guarantee that it will save you MUCH more that what it costs you!!!
What are you paying for?
The interview fee covers the costs involved in arranging interviews for you. For a full time worker, the fee covers up to 8 interviews with candidates pre-selected according to the criteria laid out by yourself in the questionnaire we send to you. For an Au Pair placement, we offer up to 5 interviews, and for a part time or fixed term worker, we normally choose someone on your behalf, but if you require interviews, we charge per interview. If you REALLY feel that one or more of the interviewed candidates did not meet your criteria, we will offer another candidate to be interviewed if required.
The placement fee covers the placement and a training course or discounted course of your choice from the available courses at EduCare, subject to availability. (This applies only to Full time employees.)
What guarantees do we offer?
Due to the nature of our business, we DO NOT give guarantees, but we really do try and make sure that our customers are happy!
If within a month of your new employee commencing service, he/she either proves to be unsuitable or does not fulfill the duties required of her, we will contact your second or third choice of your interview list, and see if they are still available. If you did not at that time interview all 8 (or 5) candidates you were entitled to, we will arrange those outstanding interviews should you so require. (Should you require new or more interviews, we charge per interview)
Please remember that it is not normally reasonable to expect an unemployed person to wait for too long before commencing employment, so we normally require that you commence employment within at most, 2 weeks from interviews, unless you are prepared to pay a retainer. If you wait longer than two weeks, and by that time the candidate has found alternative employment, then it would be unreasonable to blame us!
Please remember that that your interview fee covers your interviews up to the maximum allowed and further interviews are charged per interview. Your placement fee covers a voucher for a free or discounted course, and once it has been used you will have to pay for any other courses required. If you send an employee on the free/discounted course, and she soon thereafter leaves your employ, then you will not be able to send your replacement employee on a course unless you pay for that course, so we recommend that you try and be sure that you are happy with the person before booking them on the course. (The voucher is valid for 3 months)
If you have used us all your interviews and your course voucher, you will need to pay another interview and placement fee should you require another placement.
What we expect from you:
We need you to be realistic in your expectations. If you expect an outstanding employee, then you need to be prepared to pay an above average salary! We cannot find you diamonds for the price of stones! Please remember that a really good candidate will be able to pick and choose, and even if she initially agrees to a low salary and/or long hours, she is not likely to last with you for very long.
We expect you to adhere to the conditions of employment in accordance with the Labour relations act with regard to hours and salary requirements.
We need you to be clear as to what you expect and need, and to fill out the questionnaire as clearly as possible.
How to proceed:
If you would like to use our services, you will need to contact your nearest franchise for a copy of our contract and the questionnaire that you need to fill in.
Once we have received your application, contract and interview fee, we will proceed with your placement.
Click on the links below for some useful info